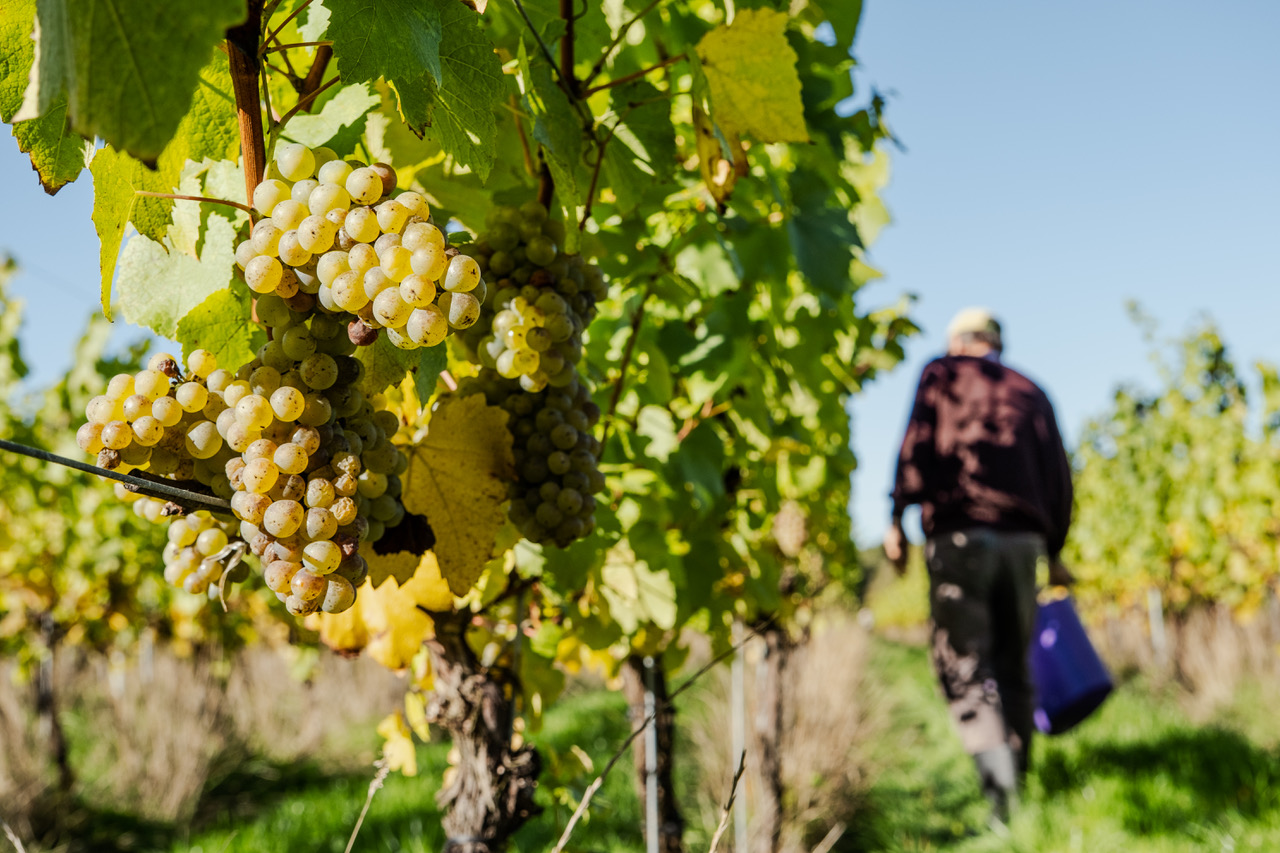 This was our ninth vintage, so next year we'll have to celebrate!  Harvest 2022 was, after two difficult years which I may have bored you with a few too many times, fantastic. My heart sings when I think about this year. No frost, just a tiny bit of powdery (it would be odd not to have any diseases…). It was a perfect year! After a long wait via frost ('20) and downey ('21) we had our first proper crop from 2018 plantings.  We picked our first crop of Pinot Noir Précoce (an early ripening Pinot) which will be an interesting component. We had super ripe Chardonnay, Pinot Noir and Pinot Meunier. And our PIWI – Seyval Blanc – was its most gorgeous generous self.
The stats from the Climate Vine App tell the story about our site: Cumulative Growing Degree Days (a measure of temperature used by growers) between 1st April and 31st October 2022 were 1100 this year. Last year was 903 and the ten-year average is 899.
The heat and lack of rain was of course troublesome – we kicked off our working days at 5am some days, we had to water some young vines with variable results – but the mature vines are sitting with their feet in clay and absolutely loved the sunshine and record temperatures. Salvatore, our winemaker, is from Sicily and smiled when we all complained about the heat and worried about sunburned grapes!  Harvest spanned nearly a month with our first day on September 23rd picking the Pinot Noir Précoce and the last on October 20th picking Pinot Noir for (hopefully) a low volume red.
For the first time this year we had a couple of friends & family picking days which was really nice. So good to touch base and have informal feedback and lots of encouragement!
So, at the moment, we are 'cooking' in the winery. We are as usual combining our love of our own yeasts from the site with a few technical yeasts that have specific jobs to do.  We have new oak barrels which will help make interesting components as well as our increasing stock of 'old' barrels of course. As usual our huge number of small tanks (and barrels) help us separate fractions, but it was also nice to see our very large tanks full to the brim.
In terms of wines, the plans are to 1) bring back the still rosé which we had to pause for a year as we didn't have the right grapes, 2) make some more sparkling Pinot Meunier which everyone loved so much when we released the 2017 vintage – the first and only vintage, 3) for fun maybe make some sparkling red, 4) while the sun shines make hay and supplement our stock of all our sparkling wines (running out is not an option…) and 5) of course try to make the best still Chardonnay and still Pinot Noir we can. The list is quite long!
We will be back in touch with updates about the rollercoaster ride called a single estate organic vineyard in England, and most importantly hope to share a glass or two with you soon (maybe to celebrate our tenth vintage?).
Thanks for your support!
Kristin, 18th November 2022
Photo by Leah Whitty.