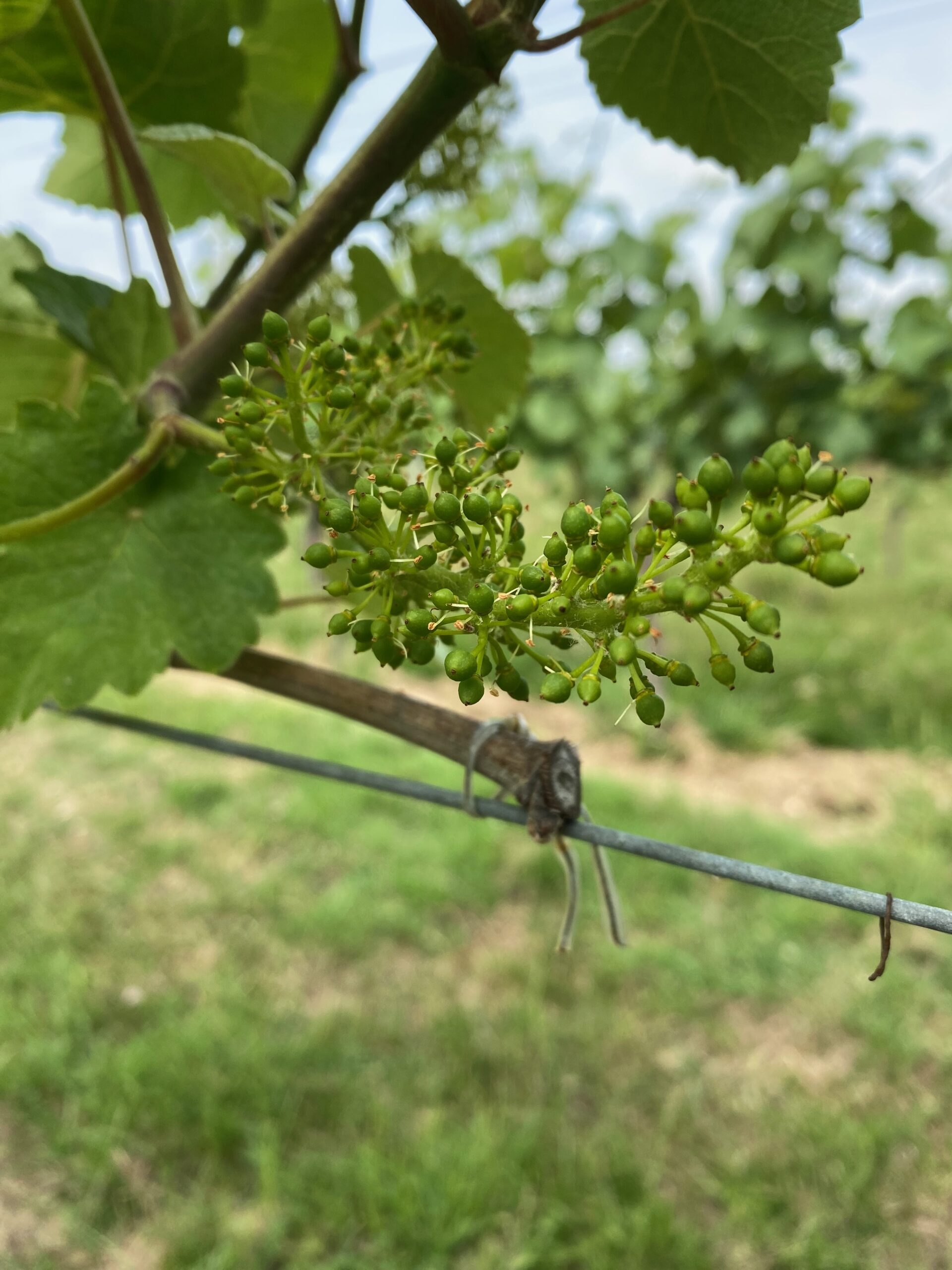 Summer in the Vines
What a start!
In the vineyard at Oxney, we saw the most rain in March since planting the vineyard in 2012. Did the vines love it? YES! Though our silt top soil and clay sub-soil was slippery and slick, the moisture went deep into the roots and when it finally dried up in May, the growth has been fast and furious!
Flowering is just finishing with fruit set showing off some lovely bunches. It has been a lovely warm late spring and early summer with flowering at least a week ahead other years and we are carefully monitoring the leaves and the grapes to prevent disease pressure for healthy grapes. Sebastian, our vineyard manager, has a great team to keep the canopy of leaves and canes tucked safely into their catch wires and tidily growing straight up to maximise wind flow between the canes to capture as much sunlight as possible – the ultimate end game is to encouraging optimum ripeness.
In the winery, we have been bottling 2022 sparkling wines as well as non vintage bubbles with a team of five each day. Switching roles around on the bottling line so we don't get too complacent placing bottles onto the fill line, popping bidules into bottles, crown capping and carefully placing the filled bottles into stillage cages. Our record in 8 hours was just over 5600 bottles, which may not sound like a lot to some, but we were pleased! It is a very rewarding journey to witness the secondary ferment and taste the progress over time waiting for the perfect 'aha' moment when they are ready for disgorgement. For our vintage wines that is probably 2025 at the earliest. It is a long journey.
Speaking of disgorgement, over 6000 non vintage and 2020 vintage bottles are ready for just that! The gyropalette has been slowly turning bottles upside down to drop the yeast cells into the neck in preparation to disgorging, dosage, mushroom corks and cages. We will then let them sit for a bit, label with our new labels (very exciting) and have them ready for release later this year.
To celebrate the release of some new vintages, including our still Rosé, we have started the Oxney Hundred Wine Club. Many of you have joined us already, with shipment of Rosé 3 ways on its way to Members. Thank you! If you are interested in learning more about Wine Club, email members@oxneyestate.com and we can send you some details.
The countdown for harvest is on, next stop, veraison! 
In good health, 
The team at Oxney.