England – The Edge of the World Wine Map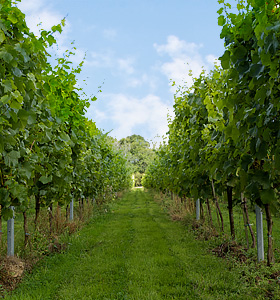 We are writing this as the 2019 harvest is a day away. And it is, literally, chucking it down outside. We're cleaning, getting tractors and picking boxes lined up. Sending too many text messages to the chap in charge of the 15 Romanian pickers we are expecting.
2019 has been a challenging year for us who grow and make our own wine. The spring was cold and the summer was, in part, wet. But, we avoided the spring frost and we had a very good flowering. So not all bad!
My favourite story when talking to wine lovers at the winery is the chap from a very well-known champagne house who visited as part of a Defra sponsored mentoring scheme when we were starting out. He told me how lucky we are here in England for having such great weather! He meant suitable weather for making top end sparkling wine. The Champagne region, he said, is too hot.
We have all read the stories about the harvest in Champagne this year which was incredibly early after a summer of often 40C temperatures which is too hot for the grapes. So maybe we should be happy with the 2019 vintage! While the yields won't be as plentiful as 2018, the quality, in terms of the right amount of sugars, acids and flavour, will absolutely be there.
Can't wait to start the 2019 harvest!
Kristin (founder, owner and harvest tractor driver)